Carmeq involved in series development for Volkswagen
18.02.2013
Since mid-2011, customers of the VW Group can order Easy Open as an additional extra in more and more different models. The prerequisite for the Easy Open function is a keyless entry system, where the remote key is detected and the vehicle opens automatically as your hand approaches the door handle.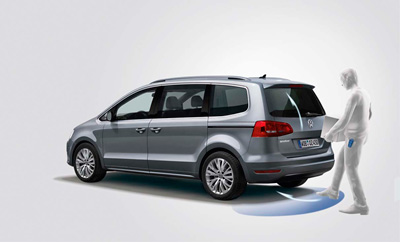 When the Easy Open system is installed and the remote key is operated around the rear of the vehicle, the boot can be opened with a kick-like leg motion below the rear bumper.
Carmeq has been involved in the group-wide project since the beginning of 2010.
Two capacitive sensors are installed lengthways in the rear bumper to detect the movement of your foot, which is referred to as the "kick". It is important that the sensors are installed as far away as possible from metallic conductors and in particular earthing body parts, because they affect the capacitive properties and thus interfere with performance. Finding the optimum installation position was one of several challenges faced. Carmeq has a leading role in the project, bearing the responsibility for the module along with all of the related tasks, such as coordinating with other brands, carrying out test runs, liaising with suppliers, reporting to VW management as well as quality assurance.
In the technical area, Carmeq was also involved in adjusting the algorithm for kick detection, i.e. for triggering the system. The second generation is currently being developed. In detail, the main focus is on decreasing the idle current further and improving electromagnetic compatibility.